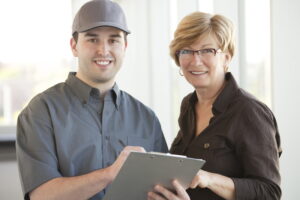 When you live in this area of the country, you need to have a reliable system for air conditioning in Hernando, MS. Having the right system installed in your home is going to make or break your home comfort. That is why, when you need to retire your old, aging unit, it is important to know what your options are for your next system.
Below we've provided you with some great information to help you make this decision. From identifying when the time has come for a replacement to helping you select your next system, we can be the team you rely on to ensure your comfort.
Step 1. Figure Out If You Need an AC Replacement
You don't want to replace an air conditioner that still has a few more years that it can offer you before it is too inefficient to function. Here are the warning signs that indicate when the time has come to retire your current unit:
Your AC is between 10 and 15 years old.
The system can't cool your home anymore.
You still have an AC that uses R-22 refrigerant
The AC is blowing hot air.
You've had to schedule frequent repairs.
Step 2. Choose Your Next Air Conditioner
When you need to replace your air conditioner, you want to opt for a system that will best meet your needs. That doesn't always mean that you should opt for the type of system you had previously. Choose from the following options:
Central AC systems: One of the most well-known types of AC units, the central air conditioner uses indoor and outdoor units and ductwork to create and deliver cold air through your home. These systems are great for providing even temperatures throughout your house. As long as you have the space for the units and ductwork, this is a great option for you.
Heat pump: A heat pump uses an outdoor unit but can run cool air through your air ducts. These systems are highly energy-efficient and can provide heating comfort too.
Ductless mini split: The ductless system is a type of heat pump but it is able to offer your home year-round comfort without the use of ductwork. Ductless systems are great for homes that are too small or old to support ductwork. Connected to the outdoor unit via a condensate drain and a refrigerant line, this system is great for offering comfort and better indoor air quality as well.
Not sure which type of AC unit will best meet your comfort needs? Not to worry! When you reach out to us, you can talk to one of our Comfort Consultants to determine which air conditioning system will be the best option for your home comfort. From there, you can rely on our HVAC Service Professionals to perform the installation. Schedule this service with a trained professional to ensure that you can enjoy comfort no matter how bad the weather is.
Since 1943, it's been Automatic in Memphis! Contact Automatic Air Conditioning, Heating & Plumbing to schedule an appointment.