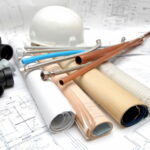 Leaky pipes are never enjoyable to deal with. And older pipes are going to be far more prone to leaks than newer ones. Of course, the material that your pipes are made of can be a large factor in deciding whether you need to schedule a plumbing repair or a full-blown repiping service for your house.
Asking how old your home is can often be a good idea. This will inform you about how old your pipes might be and can help you make the decision as to which service to request from your local Collierville, TN plumbing professionals.
Do I Need to Repipe My Home?
First things first, you need to determine whether or not you need to schedule repiping services for your home. From there, you can work with a professional plumber to determine which pipes are the best fit for your home.
Repiping is no small task. It involves the careful removal of all of your home's pipes and replacing them, including reattaching all of your plumbing appliances to these new pipes. In many cases, homeowners can get by with replacing some of their more worn out or damaged pipes. In other cases, however, you will need to repipe. Here is how you will know you need to schedule repiping:
You have weak or inconsistent water pressure
There are extreme fluctuations in the temperature of the water
Your pipes are 30 years old or more.
The pipes in your home encounter frequent leaks.
Your Piping Options
Many homes often have copper piping. This isn't the only option that you have nowadays, though copper pipes are still a viable choice. Here are the three main piping options you and your plumber can choose from:
Copper: Many homes used to be built with steel pipes. This eventually was switched out for copper pipes. Copper is used because it is lighter, more flexible, and more resistant to corrosion than other metals are. What's more, copper tends to last up to 50 years before needing replacement (this is why we often suggest the people who have homes that are 50 years old or more have their pipes checked).
CPVC: CPVC stands for chlorinated polyvinyl chloride and is a type of plastic piping known for its strength. These are stronger than regular PVC pipes and can handle water that is at a higher temperatures (usually a factor that can shorten the lifespan of plastic pipes).
PEX (Cross-Linked Polyethylene): Another type of plastic piping that you can choose for your home is PEX pipes. These are an alternative to CPVC pipes and are known for being highly flexible. They are also known for being less expensive than the other piping materials and can have a longer lifespan than CPVC pipes too.
If you aren't sure what pipe material would be best for your home or you can't choose between two of the materials above, that's okay. Your plumbing professional is going to be able to assess your home needs and will select the pipe, or multiple types of pipes, that will best provide for your plumbing needs.
Contact Automatic Air Conditioning, Heating & Plumbing for your next service. Since 1943, it's been Automatic in Memphis!