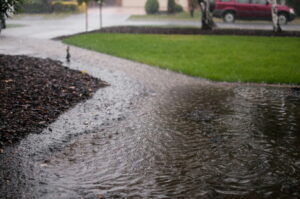 Imagine coming home from work and discovering that your neighborhood has flooded. Now, rather than relaxing, you have to figure out how to deal with any floodwater that has found its way into your home. It's a stressful situation but what if it were avoidable?
We have good news. With the addition of a sump pump to your home, it is possible to prevent a good deal of flooding trouble from impacting your home. As long as this system is installed by a professional from a good plumbing company in Olive Branch, MS, you can rely on it to keep your home safe and dry in a majority of cases.
What Is a Sump Pump?
Sump pumps are systems that are made to divert excess water away from your home.
Let's look at an example. Take that day when you came home to a flooded area around your home. If you have a basement, there is a strong chance it would be at risk of being flooded by the extra groundwater in the area. However, with a sump pump, that extra groundwater is automatically pumped away from your home, usually being deposited into the wastewater system.
How It Works
Sump pumps have a somewhat unique setup. The "sump" in the name refers to the pit that the pump is placed in. When there is excess water in the ground around your house, such as from a flood or even from a leak in the house, it fills up this "sump pit." Once the water level reaches a certain point, the pump turns on and starts to drain the extra water as we described above.
Why Sump Pumps Are a Gift for Your Home
We referred to these systems as a "gift" and that's because they really can be a gift for the well-being of your home and your own peace of mind. Here's why:
They help prevent a majority of water damage.
They go to work automatically so you know you are protected at all times.
They protect any investments you have in your basement, ground-floor, or crawlspace.
They help prevent mildew and mold growth.
A sump pump can actually increase the value of your home.
They protect your home from all types of wastewater issues, from flooding to leaks to sewage line back-ups.
Get Started Today
If you've struggled with water damage in your home before, then you know that it is a problem you'd rather avoid. With a sump pump, you can enjoy knowing that your risk of water damage, mold, and other problems is going to be under control. By installing this system in your home, you are giving yourself the gift of a home that is better protected for years to come. Just make sure to work with a professional team like ours for your installation, maintenance, and system repairs.
Interested in installing a sump pump? Reach out to Automatic Air Conditioning, Heating & Plumbing to schedule an appointment with the plumbing experts. Since 1943, it's been Automatic in Memphis!