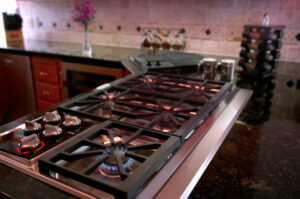 If you have a gas-burning stove, gas fireplace, or other gas-based appliance, then it means there are gas pipes that are installed in your home. It also means that you need a professional to address any problems those gas lines encounter.
Any time there's a concern about your gas piping, it's critical to call a professional to check things out. Without the help of a highly trained, licensed, and certified technician, you could face a number of problems, including safety risks. In most areas, it can be against local building codes and laws to make repairs to gas piping without a professional.
If you need any help with gas line piping in Germantown, TN, be sure to turn to a professional. We will explain why this is so important.
Why Hire a Trained Plumber for Gas Piping Needs?
Gas lines may not seem like they are complicated to repair. You may think they are easy enough to handle yourself. Don't do it. You need a professional for all types of gas pipe work. There are multiple reasons why:
It's a legal requirement. In most areas of the country, it's illegal to work on any pipe or appliance connected to a gas main unless you have the license to do so. That's because there is a significant risk of injury, including explosions from the gas line. A small leak can lead to fatalities not just within your home but also sometimes in nearby properties as well.
Experts know how to handle gas lines: A trained plumbing professional knows how to find and handle your gas lines and how to handle all gas line connections. This is far better than dealing with someone who has to look up an online tutorial to figure out what needs to be done. A trained professional knows what to use and where to minimize the risk of gas leaks.
Professionals can do the job safely. Consider that gas leaks are always dangerous but the problem is that, often, the gas can be odorless. This makes leaks hard to spot unless you know what you're doing. A small leak from an improper fitting or tightening can lead to a significant risk meaning that you want a professional to do it so you know the job is done safely.
Skilled gas plumbing professionals have:
The necessary training and licensing to do the work properly
The proper tools to ensure the work is done according to best practices
The knowledge to minimize risks and to ensure the work is done right
Whether for preventative work, repairs to address existing leaks, or installation of new lines, don't overlook the importance of a highly trained professional.
When to Call for Gas Piping Services
There are a number of services a gas piping technician from our team can offer to you. That includes:
Installing pipes, such as if you are running new lines to new areas of the home
Fixing pipe leaks if there's damage to them or a gas leak occurred or is suspected
Making gas connections, especially to ovens, outdoor grill areas, or dryers
Expanding gas lines in the house, such as when adding a gas fireplace or other gas-dependent systems.
If you are planning to do any work that involves your gas lines, hiring a professional to manage them for you is essential. It not only ensures it is done well, but it also gives you peace of mind knowing your home and family remain safe. Even if you're unsure you need help, if it relates to gas lines, don't do anything before you turn to a professional.
Since 1943, it's been Automatic in Memphis! Schedule your gas piping services with Automatic Air Conditioning, Heating & Plumbing.