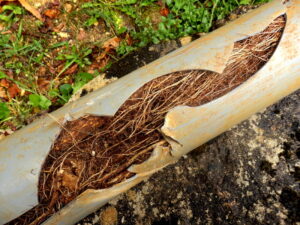 Have you ever been walking down the street and discover the sidewalk is being lifted by the roots of a particularly tenacious tree? Things like these are what remind us of how powerful some foliage is, especially around here. So, knowing that a tree can mess with concrete, what's to stop those tree roots from invading your sewer line?
While a sewer line may not seem like something that can draw things in, the opposite is the truth for plants. Why? Because what's in those sewer lines acts as a fertilizer, no matter how stinky. It is easy to say you don't want tree roots messing with your sewer line, so make sure to contact a plumber in Germantown, TN when you encounter this issue.
How To Tell Something Is Up With Your Sewer Line
First things first, if we are going to tell you to reach out for assistance from a professional plumber, you are going to need to know when to contact them. No one calls for a service they don't need because of warning signs that aren't there. We don't want to leave you in the dark so here are some of the indicators to watch for that will tell you when something is up with your sewer line:
You have more than one clogged drain at once: Drain clogs are often the result of a back-up within the immediate pipe itself–usually created by a build-up of soap scum or food debris. However, if your kitchen sink is clogged at the same time as your toilet and your shower, the issue may actually lie within your sewer line.
You notice bad smells coming from your drains. The nose knows when something is up–especially when it comes to smelling sewage. No one wants to smell the remnants of what went down the drain so if those scents are haunting your home lately, it may be time to check your sewer line.
You notice overly lush grass in the yard. As we mentioned before, sewage may be gross to us but to plants, it tends to act as a fertilizer. Plants tend to seek out sewage so, if your sewer line springs a small leak, it may result in plants or grass that are far lusher than before. In fact, leaking sewage may end up attracting tree roots to it!
Solving Your Sewer Line Problem
So what are you supposed to do when your sewer line is breached by tree roots? Reach out to a plumber to solve the issue. In some cases, repairs may be possible but it is likely that a replacement will be necessary. This is no small task so make sure to leave it in the hands of a professional that you can trust like one of our team members. We will get the job done right so you can get your daily life back on track.
Since 1943, it's been Automatic in Memphis! Contact the plumbing pros at Automatic Air Conditioning, Heating & Plumbing to schedule your next service appointment.