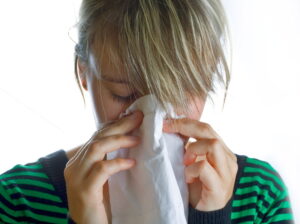 Those of us who battle with allergies know that fall can often be as bad as the springtime. That means that it is just as important now as it was months ago to protect your home from the intrusion of pollen, dirt, and other allergy-triggering debris. The question is, how are you supposed to do that?
Thankfully, there are indoor air quality systems that you can rely on to help you breathe more easily even when the pollen count is up. Air purification systems specifically are great at making your home a safe haven from the allergens outside and even those that find their way inside. If you haven't already heard about air purifiers and their ability to help your health and comfort, we'd love to give you a quick overview so you can discover if this may make a good addition to your home.
What an Air Purifier Can Do
An air purifier or air purification system is extremely helpful for your home's indoor air quality. These systems can provide protection against a variety of airborne contaminants, similar to what an air filter does, but can take it a step further. Using different methods, such as ultraviolet light or electricity, air purifiers can help clean the air in your home and prevent the negative effects of allergens from being circulated around your home over and over again.
The Types of Air Purifiers Available to You
There is more than one type of air purifier that you can add to your home's HVAC system. The two key types that you are going to be choosing from are the electrical purifier or the UV light purifier.
Electric purifiers charge the particles floating in the air in your ducts. This allows those particles to be pulled to a magnetic plate where they are held until the plate is cleaned off. In short, electric purifiers literally pull contaminants and allergens out of your home's air.
A UV light purifier on the other hand uses ultraviolet light to get the job done. This creates one of two results. First, UV light can destroy airborne particles, eradicating them entirely. If that doesn't happen though, the other result is that it will alter the genetic code of the particles, stopping them from being able to spread, which is helpful against viruses, bacteria, and mold.
Our Air Purifier System Services
Would you benefit from an air purification system? If you believe you may, then it is time to reach out to our team of professionals. We provide air purifier system installation, maintenance, repairs, and more. We will get the best system to serve your indoor air quality needs so you can enjoy optimally clean and comfortable air in your home. The systems we work with are sure to leave you breathing easy again.
If you ever need an air purifier service near Arlington, TN, make sure you contact Automatic Air Conditioning, Heating & Plumbing to get the job done right. Since 1943, it's been Automatic in Memphis!