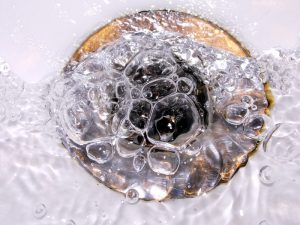 Been hearing strange sounds after you take a bath or do the dishes? Those sounds might be coming from your drains. While it might make you think that a swamp creature is lurking in your drains, it is more likely that this is a sign of a clog that is about to mess with your ability to use your plumbing system.
One of the best ways to address a clog in any of your home's drains is through drain cleaning in Collierville, TN. This is a service that we provide because it helps to address a current problem and prevent future issues at the same time.
If it sounds like your drains are trying to talk to you, it is time to work with our plumbers to get the backup cleared. Here's what you need to know.
Drain Cleaning Vs. Chemical Drain Cleaners
Drain cleaning that is provided by our team is done via hydro jetting. This involves the use of a tool that creates a high-pressure jet of water that can break down debris and scour the pipes clean.
In contrast, a store-bought chemical drain cleaner is poured down a drain where it can try to break down the debris that has collected and is clogging your drain. The issue here is that this chemical usually won't get rid of all of the debris in the drain. What's worse though is that it can eat away at the pipe itself. So not only will your drain be more likely to clog again in the near future, but this chemical can also cause that same pipe to leak too!
Preventative and Immediate
Drain cleaning is a highly helpful service. That's why our team offers it to homeowners throughout Collierville and the surrounding areas.
See, drain cleaning helps both to prevent clogs but also helps clear immediate clogs too. This may sound too good to be true but this is a real thing.
When you get drain cleaning to get a clog cleared from a backed-up drain, it is going to scour away all of the debris that is stopping the drain or might possibly slow it down. This takes care of anything that would stop the drain and force you to stop using a sink or other plumbing appliance in your house. It is also going to help prevent future clogs by reducing the chances of another clog forming anytime in the near future.
Work With Us For Automatic Results
Drain cleaning is a highly effective solution to fixing a clogged drain or even a slow one. What's even better is that it can even be used to clear a clogged sewer line which is great news since there really aren't many other services that can do this.
The professionals on our team can help you with clearing clogged drains in a timely and effective way. We use some of the best technology around and we work hard to do right by our customers.
Contact Automatic Air Conditioning, Heating & Plumbing to book an appointment. Since 1943, it's been Automatic in Memphis!