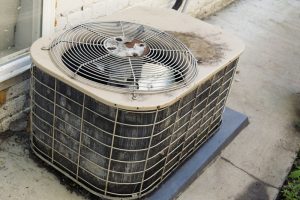 If your air conditioner is on the way out, you don't want to try to push it further to see if it can keep cooling your home. This is likely to cost you more money without providing your home with any more comfort, if it is able to cool things off at all. When you realize that you need to invest in a new AC system, you will want to call our team for an AC installation. Our team can help you select, size, and install your next unit.
But, first things first, let's look at how you can tell that you will need to prepare for a system replacement. After all, you don't want to schedule a replacement when you could keep your system going with a repair.
These Are The Signs You Need a New Air Conditioner
Getting an air conditioner system replaced is no small job. That's why you want to be sure that the time has come to schedule a replacement. Here are the warning signs that your AC system really is on its way out.
There are frequent and expensive repairs. You'll never have a system that is without the need for repairs. However, that doesn't mean you should need AC repairs regularly. If you need repairs for your unit more than once every few years, or your repairs are getting too expensive to justify, you will want to prepare for switching your system out.
Your energy bills are increasing. Yes, your monthly energy bills will change a bit according to your use of your AC unit. With that said, high energy bills shouldn't be the norm. Energy bills that seem to only increase are letting you know that something is wrong with your system.
Your air conditioner is 15 years old or more. Age is going to have an impact on your air conditioner, even if it is well-maintained and cared for the way it should be. An AC unit that is nearing 15 years of operation or more is one that will need to be replaced sooner than later as it can't keep up with the efficiency or effectiveness of more modern units.
The AC unit isn't cooling your home anymore. Last but not least, you will need to replace an AC unit if it is unable to provide reliable cooling for your home. There is no point in keeping a system that doesn't do anything! Instead, replaced it with an effective system that will actually cool your home the way it is meant to.
When it comes to keeping your home cool and comfortable in Memphis, it is important to make sure that you are using the most effective and efficient system that you can. You can trust the team at Automatic Air Conditioning, Heating & Plumbing to properly remove your old AC, and install your new one so that it keeps your home environment exactly where it needs to be.
Since 1943, it's been Automatic in Memphis! Contact Automatic Air Conditioning, Heating & Plumbing to get your service scheduled.