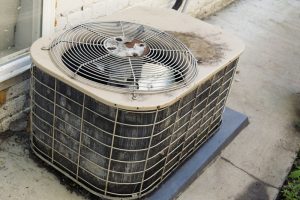 Your air conditioner may run into trouble over the course of its lifespan. Some repair needs that it can have, such as a loose bolt or a dirty evaporator coil, may be easier to address while others might be more complicated. One of those complicated issues is a problem with the compressor.
Your compressor is the heart of your air conditioning in Hernando, MS. Without it operating correctly, your AC won't be able to cool anything, let alone run in almost any way. The question you may have if you are encountering a compressor failure is whether or not it means you need to replace your whole system. The answer is maybe.
What Your Compressor Does
As we mentioned above, your compressor is vital to your AC system's function. Its role is condensing and pressurizing your system's refrigerant to cycle it through the AC so it can create the heat transfer that cools the air in your home.
Knowing this, it makes sense that a compressor failure can halt the entire cooling process.
Does Compressor Failure Equal a System Replacement?
So, if the compressor in your system has broken down, does it mean you need to replace your whole AC unit? It might, but there are chances that it may be avoidable. Consider the following circumstances:
Your AC is still under warranty: If your AC is still under warranty and is only a few years old, it may mean that an improper installation or other issue wore your compressor down early. If this is the case, you may be able to get the compressor repaired or this particular part of the system replaced. It may still be a higher price but should be less than a replacement.
You need to replace the condenser unit. It is also possible to replace just the condenser unit. The condenser unit is the outdoor portion of your AC system which houses the compressor. While this isn't the cheapest switch to make, it may be an option should you be dealing with something like a damaged condenser.
You replace the indoor and outdoor systems. If the warranty is up and the system as a whole is at the end of its lifespan, it is best to replace the air conditioner. While this will come at a cost, it will provide you with a working AC system again. What's more, we understand budget limits which is why we provide financing options to help out.
Dealing with an AC repair need? Our team can help assess the condition of your air conditioner. This means we can figure out what is causing problems for your system and address it in a timely manner. In many cases, prompt repairs can prevent your compressor from failing in the first place. But if not, we can figure out which of the above options is the best one for your needs.
Large or small, you should always turn to a professional for repairs or, should the need arise, a replacement. For that, you can come to Automatic Air Conditioning, Heating & Plumbing.
Since 1943, it's been Automatic in Memphis! Schedule your next appointment with us today.