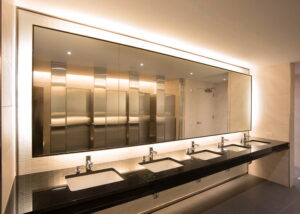 Dealing with a leak or a clog in a residential setting is different than when you have to deal with a similar issue in a commercial setting. Commercial plumbing systems are equipped to handle a heavier workload. This doesn't make them immune from trouble.
We are still in the early days of the new year. Why not make it a goal to ensure that your commercial plumbing system is in the best possible condition? After all, there's nothing that will throw off a sale or a productive workday like a leak or major clog!
What Makes Commercial Plumbing Different
Here is what you may need to know about your commercial plumbing system so you can more easily determine when and why you should schedule Memphis, TN commercial plumbing services with a qualified plumber.
To start, a commercial plumbing system has the potential to cause a good deal more trouble than a residential system might. Commercial systems handle larger volumes of water, which means if something goes wrong, you're going to encounter much bigger issues.
Commercial systems are also going to have more complicated designs. These plumbing systems are set up to meet larger needs and may even serve multiple floors. That is a lot of piping and may also include pumps that ensure the water gets where it needs to go.
A larger plumbing system with a more complicated setup and a larger number of people to impact is one that you want to keep in optimal condition. The best way to do that is to work with a commercial plumber who understands how these systems work.
Standards Commercial Plumbing Need To Meet
There are certain standards that every plumbing system needs to meet. This includes commercial plumbing systems. The standards for a commercial or industrial system are going to differ from those for a residential house. These standards will include the volume of water the pipes can hold, particularities about the pipe joints, specifics about pipe system layouts, and even the number of sinks and faucets that are available in the building.
Without access to the right training materials and information, DIYers and even residential plumbers may miss vital details when trying to maintain or repair a commercial plumbing system. Don't risk it! Opt for a trained commercial plumber first in order to avoid the trouble that comes from working with the wrong person.
When To Get Commercial Plumbing Repairs
Here's the tricky part. While there are signs to watch for that will alert you to problems in a residential system, it is far harder to figure out when there is an issue with a commercial system. At least, it is harder to find issues in a commercial system before things get bad. Thankfully, a trained commercial plumber is going to come equipped with the tools, training, and knowledge to keep your system in working order and help prevent a large number of major issues.
Since 1943, it's been Automatic in Memphis! Schedule your service with a commercial plumber at Automatic Air Conditioning, Heating & Plumbing.